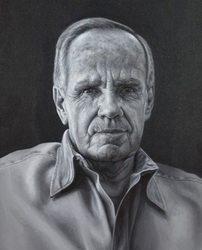 Santa Fe, NM (PRWEB) September 2, 2008
The Smithsonian National Portrait Gallery has acquired portraits of the Pulitzer prize-winning author Cormac McCarthy and Nobel Prize-winning scientist Murray Gell-Mann, painted by award-winning artist Andrew Tift, from Andreeva Portrait Commissions to add to their permanent collection of famous Americans.
The portraits are part of a series of twenty-three portraits by Andrew Tift, commissioned in 2003 by gallerist/owner Tatiana Andreeva, as a millennial portrait record of northern New Mexicans. This unique, one of a kind collection, New Mexico Faces, represented by Andreeva Artists, includes scientists, activists, artists, musicians, flea market sellers, a Viet Nam veteran, a waitress, and other extraordinary ordinary people, see http://www.andreevagallery.com/main/artists/24-tift/works
The painter of the collection, Andrew Tift, won the prestigious BP Portrait Award Best of Show 2006 at London's National Portrait Gallery. Tift is represented for commissions by Andreeva and will be teaching in the Andreeva Academy in December (see http://www.AndreevaAcademy.com).
Andreeva represents masters of figurative painting from around the world for portrait commissions and for instruction at the Portrait Academy in Santa Fe, NM and in Salado, Texas.
Contact:

Pam Osborn, Director

Andreeva Portrait Commissions

505-982-7272

http://www.AndreevaCommissions.com
###